A Travel Backpack That Does It All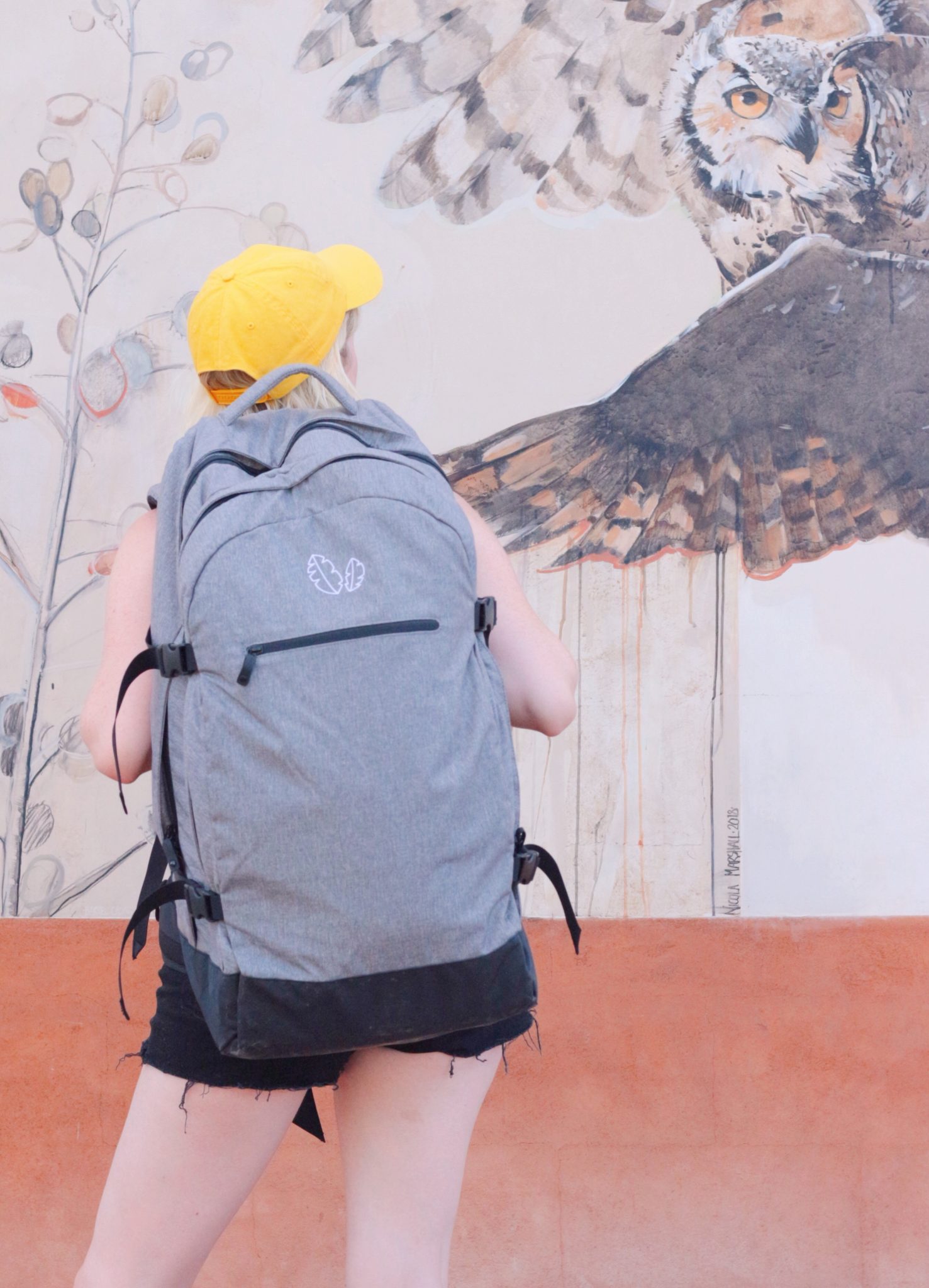 Trying to find a travel backpack that fits all your needs AND is comfortable, is like searching for the Holy Grail. You want to believe it exists but it's not going to be easy to find. A good travel backpack needs to hit all the marks: price, weight, style, function, and size. Instead, we often settle for a less than ideal bag that meets some of our requirements. After all, it's still better than dragging along that wheeled carry-on that runs over toes and causes chaos in the airport (see: me during a trip to South Africa)!
Part of my journey, towards becoming a more ethical traveler, is examining my long-term impact versus my short-term desires. Is a decision that's going to bring me instant gratification going to have a negative causal effect on something or someone else? Of course, there are a million ways one can slice that questions and I may never fully know what my impact is. I can, however, make educated decisions based on research- yay internet! This extends to what I bring with me on my trip and in what bag I use to pack it all in. Packing light is planet-friendly. The more one packs, the more weight the plane has to carry= more CO2 emissions being put out into the atmosphere. No Bueno. So, I tend to go for a minimalist approach to packing. That said, being a digital nomad, I often carry my "work" around with me. I need a backpack that is going to keep up with my active lifestyle, hold my gear, and not weigh me down.
Enter: Banana Backpacks.
Better Gear. Better World.
Banana Backpacks has been on my radar for over a year now. When I first encountered sibling co-founders, Anika and Michael Funk, we immediately connected over our love for Bali, Indonesia, and sustainable travel. 
They shared their vision for creating a backpack that not only had stellar functionality but one with a social impact component. Each purchase from Banana Backpacks is connected to a sustainable development project and empowering local communities. And because the Funk's have a love for South East Asia- there's a focus on supporting NGOs in that region. For example, purchase of one of their backpacks supplies two meals a day for a child, for one year, at a school in the Siem Reap. Banana Backpacks has partnered with Caring for Cambodia to make this possible. This incredibly important initiative goes a long way when you consider that, access to basic education and food security has been an uphill battle since the genocide the country faced in the 1970's. On the left shoulder strap of your bag, you'll find the name of the child whose education is being supported by your purchase.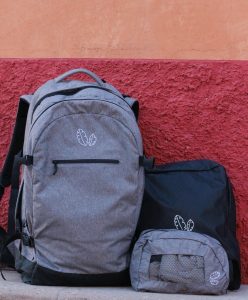 "We wanted to create a company that helped improve the lives of travelers, helped them make the world a better place, and helped them to see the amazing cultures across the planet." – Anika Funk
Buying one of their 100% organic cotton, t-shirts provides clean drinking water to families in Cambodia, via the Trailblazer Foundation. Inscribed on the shirt are the GPS coordinates of where a bio-sand water filtration system has been installed. The coordinates on the shirt are written in Khmer, which the official language of Cambodia. This thoughtful touch creates a sense of connectedness to the families you are helping.
An equally important element of Banana Backpack's business model is their supply chain. They are very transparent about who they are working with and recognize that social impact starts at the factory level. They also value fair treatment and wages for their workers and aim to hire manufacturers who share a passion for creating a better world. 
"If it's made by Banana Backpacks, we have been to the factory (big or small) and met the people who sew the seams to bring you gear you can be proud of, every step of the way."- Banana Backpacks
The Works
The Khmer Explorer Travel Set is a 60L bag with tons of room for storage. It comes with integrated packing cubes, a laundry bag for muddy clothing and shoes, and secret compartments (who doesn't love secret compartments?). One thing I've struggled to find with luggage is ample storage. I usually end up shoving all of my electronics and cords into a separate bag so they don't get damaged. With the Khmer set, there's more than enough room to pack all of my shoes, clothes, and some of my tech devices. My favorite compartment on the bag is the easy access, hip-belt pocket that holds your cell phone and wallet.
Let's face it, we all over pack. You think you are going to need that extra t-shirt but at the end of your trip, when you are trying to squeeze everything back into your bag and that t-shirt….you didn't even touch it, you heathen! That's why packing cubes are helpful. They aid in pairing down on how many pairs of shirts, undergarments, and lighter clothing items you need to take with you.
Overall, the Explorer set gets green thumbs up for spaciousness! 
A Bag For Every Body
At the end of the day, no matter how roomy a bag is, it also has to be comfortable to carry around. Rarely are backpacks made to be suitable for everyone. Most companies market a gendered line of bags (especially for hiking), due to anatomical differences. Even then, a one-size fits all approach is challenging to execute. Banana Backpack's solution was to create an adjustable harness with webbing loops. By adjusting the velcro mounts on the bag, you can place the backpack in a comfortable position according to your frame and height. For someone like me, who is fairly small in stature, bigger bags tend to weigh me down and cause muscle strain. The sternum strap and shoulder anchors eliminated a lot of the issues I've had with previous bags, by redistributing the weight of the bag. It doesn't feel overbearing, even when packed to the brim. Of course, a good portion of comfort and stability come from how you pack. The Khmer set comes with an informative and fun instruction booklet on how to get the most use out of your purchase.
Another impressive aspect of the backpack is its environmental resilience. The weatherproof bag is coated (twice) with 500D Kodra Nylon, ensuring that come rain or shine, your bag is protected.
A Bag For All Journeys
While the Khmer set is ideal for domestic and international travel, it's also a great bag for the great outdoors! I haven't personally gone hiking with it yet, but I'm eyeing a few trips that would require carrying outdoor gear with me. I'm already convinced that it will be a fun and comfortable bag to explore with. And with its sleek design, I know I'll be the envy of the trails.
Do you even backpack, bro? Grab free shipping through the end of July with the code: GST. Purchase your Khmer Travel Set here*
*This article contains affiliate links
Misty is the owner and founder of Green Suitcase Travel. She is a consultant, travel writer, and all around travel maven. When she is not traversing the world, spreading the news about sustainable travel, she is in Tucson, Arizona enjoying the desert.